Lots of people want to know how to become a school photographer. The answer to this depends on your situation and experience and qualifications as there is no one route into this profession which is good news. This article covers different ways to become a school photographer and what is needed.
Setting up in any photography business is a process. If you want to become a school portrait photographer, then there are several of these processes that you can follow. It may be that you are part of the way along the route or right at the beginning.  Below I cover the areas needed to become a successful school photographer and the process and qualifications that you need to follow to get there.
I have split this post down into two sections. Section 1 is all about how to become a school photographer the skills that you need whether they be technical personal or business. Section 2 is all about once you've got those skills what is required when you're actually going for the job or if you are setting it up as a photography business.
How To Become a School Portrait Photographer
What are the SKILLS Needed to become a School Portrait Photographer?

Photography Skills You will Need for School Photography

You will need portraits experience
Studio and equipment set up experience
Attention to detail
Technical photography skills/technical ability
Creativity
When you look at the type of photography you will be doing when you're working in schools it's mostly indoors and in a studio type environment (there are exceptions). So you will need indoor photography skills and/or photo studio skills. If you're planning on doing other types of school photography like sports proms or graduations, for example, you may want to expand your skill set to cover these if you haven't already.

In addition to studio skills, you need to be able to take very good portraits. Originally when schools had portraits they just lined you up. You went in had your photo taken and left. And while sometimes this happens today generally a higher standard of photography is required. So this is where are your interactive human skills come into play to get the best not only in your photography setting but out of your subject.

As a photographer, you needed to have the intention to detail in all things. That's why it's vital that you observe things that you might otherwise miss under normal circumstances. Whether that be or lighting falling across the subject. A shiny object that they're wearing reflecting in an awkward place example. Of course, these can be altered in post processing however this does take a lot of time and extra effort which takes away from your business bottom line.

Naturally, you'll have all the technical photographic skills that you require regarding the use of camera the layout of the portrait the use of colors and obviously the use of all your equipment and studio lighting. In addition, as everything is digital these days you need IT skills.

That's not to say that you can't have creativity on your job. Creativity is still vital for the photographer and how you go about getting the best from your subject and positioning your subject can all come into play.  

Each student and each students parent is not only a customer of the school but also a prospective private customer for you in the future. If you show off your skill sets you may find yourself with private portrait sessions of the family or of the family of babies for example.

What Business Skills Do You Need?

In addition to your photography skills, you will need some business skills. If you have been to university you will more likely have had these included in your course. If not it will pay you to obtain some.

These will include business management general IT as well as photography IT, workflow management and general office skills. In addition, if you work for yourself you will need to know some basic accounting and admin skills.

Business Management Skills You Need
IT Understanding and Use

These days IT is vital for any business.  For the photographer, you need your basic IT skills for running your business, for letters, emails, etc. And of course, you also need IT for your photography side of the business.

It's very likely that you'll be using a digital camera so you will need to be able to use Photoshop or Gimp, Lightroom, etc. Many schools still do like you to send them the proofs and they take the money. You may still also find yourself needing to set up your own website along with a system for loading private photos and the ability to sell them online. Especially if you're intending to combine your school photography with private portraiture work.  

Fortunately, today's photographer fairs better than in the past, as it is quite possible for anyone with basic computer skills to set up their own website for the business. This includes the ability to sell your photos and has private areas for the clients.
This may take some learning curve unless you have covered it in school however it is possible and it keeps control to you as opposed to a web designer and it can save you money.

Your Workflow Management
Office Skills

You may need some basic office skills such as being able to create business letters office storage and retrieval, telephone manner, filing, accounts, etc.

Personal Skills

In addition to your basic photography and business skills, you will also need certain personal skills that make you more suited to this specific job of becoming a school portrait photographer or another type of school photography. These include the following:

Patience and concentration
Time management
Organisation
Flexibility
If you're working with children you will need lots of patience, because they may have short attention spans, can be non-co-operative, go camera shy and make silly faces, and in addition, you need patience while working with parents and the school or government systems.

Time management and organization are vital as a photography shoot may take longer than expected and you need to know how long it's going to take you to get through your allocated amount of children without rushing. You need to know how long it's going to take you to get to and from the school and to work through the process and put together you're packs of photos.

You'll also be able to organize all your not only your time but your photography.

Flexibility is also vital as you'll be dealing with lots of different types of people in lots of different types of situations. Although you'll have your own photography equipment either or supplied by you or your firm each location will be different and how you handle it will change depending on where it is.
Communication Skills
Communication
Interpersonal skills
Strong networking skills
Team working skills
You will need good communication skills because you be dealing with a different variety of people on a daily basis in different situations. Not only can you possibly be part of a team if you're working for a photography business you will also be dealing with teachers parents children of all ages and they're not always going to be in an agreeable mood.

You need to be able to communicate well while doing your photo shoot so that you get the best out of your client. You need to be able to communicate regarding irate parents, fussy parents and also negotiate your terms of payment, etc, or if there's been non-payment for any reason or if there are any complaints.

To be a good school photographer you need very good strong interpersonal skills. These include things like having a positive attitude, being able to build effective business relationships with other colleagues and clients, being able to collaborate with colleagues and clients and be able to listen to people's issues and concerns. You also need good communication skills with children of all ages.
Whether are you working as a solo freelancer or as part of a team you will need to continually work on your networking skills to bring in new business and to make sure that you keep the business that you already have.

If you are working with others you'll also need to be able to work well as part of a team. It may be that you do the photography and you send the photos on to your workplace for processing. So, although you're not always in an office you will still need to be able to communicate with these people.
Training for School Photographers
If you're going for a school photographer job either as a member of staff or as a freelance photographer they will expect certain things from you already. We have already discussed many of the surrounding skill sets to photography that you will need to be a successful school photographer. However, the actual photography training that is also required to become a school portrait photographer has different routes.

People who have already got photography skills may not go for the academic route.  They may already have the skills needed. However, if you wish to train to become a photographer and you have not yet got the required skills or only have basic skills you can enhance the skills by going via the academic route or a vocational route.

Most photography jobs do not seem to ask for academic qualifications. They are more interested in your other skill sets and that you already have. Also, experience as a portrait photographer and preferably as a school photographer help. So, ideally, you will need to make sure that you have a good background in these areas. Or join a company as a trainee photographer.

The Academic Route To Becoming a School Photography
If your go for an academic route you can take GCSEs, A Levels, or a full degree in photography with specialist knowledge in portrait photography.

If you're going for a bachelor degree in photography you will not only get hands on photography training but also business training which is vital to the success of your future photography business.
The Vocational Route
If you opt for the vocational route rather than the academic route you will also need a level 3 qualification usually to start out. You will also need a portfolio as samples of your work.

Experience is usually essential for getting a school photographer job.
How Do You Get Experience As a School Portrait Photographer?
Trainee
Degree or other qualification
Specialist courses with practical experience
Be a portrait photographer first
So if it is experience you need for getting a school photographer job and you haven't got any, how do you get out of this Catch 22 situation?

You need to find a way to get the experience before you go for the job. There are several ways to do this you can go on a vocational course, become a photographers assistant and gain experience that way.  Photographers assistants are usually interns.

If you're doing a degree or other form of qualification you may find that you have the opportunity to do some outside study that gains some experience, however, this might not be enough as they often ask for 1 to 2 years experience for a job. Some specialist courses have practical experience but again this not be long enough for a job.

You can also become a portrait photographer first and gain experience that way.
Portrait and Studio Photography Skills
Artistic portfolio

One thing that will be essential will be for you to have an up to date portfolio to prove your skill base. Ideally, if you want to become a school photographer then having portraits of children would be a good portfolio to have. In addition to this because there are other types of photography done in schools such as proms, graduations. You may also want to show some of your skill sets by including other types of portrait photography such as wedding photography.

Recognition From Professional Bodies

It's not essential to have professional recognition if you want to become a school photographer and work for somebody else. If you also want to consider setting up your own business which may include other types of photography as well as school photography you may want to make sure you have photography qualifications and belong to professional photography bodies. This lends weight to your professionalism.
The Job Requirements, How to Get to That Point Where You Can Be Hired? (Part 2)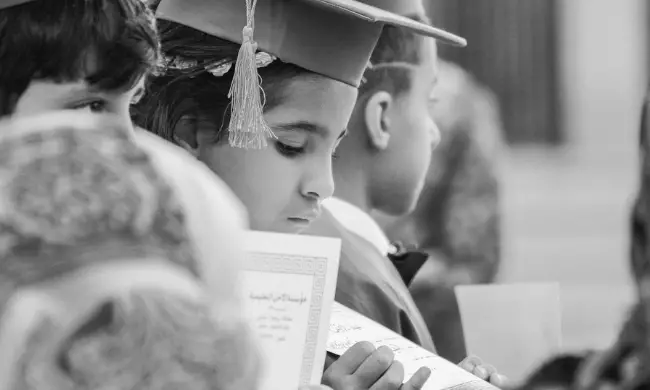 Types of schools that have requested the following job requirements are pre-school/nursery 6 months -6 years, school high school large groups, sports,  dance etc.
Below is a list of things that an employer might ask for you to have as a requirement for school photography. This is a list of things that employers I have actually asked for in their advertisements for school photographers.
Security Requirements and Checks
Things are quite tight these days when you're working with children there are lots of things to consider. One of the things that may be expected will be security checks. These may vary depending on which country you're in. However, expect to be willing to undergo these checks.

For the USA

The photographer must have a clear background check. Please also check your jurisdiction to see if you need a photographers license as it may be required. While it is not widely needed there are some places that do require it.

Please make sure you call your local city hall and also your state licencing board to make sure before you set up your business.

For the UK

You will usually be required to have DBS checks or enhanced DBS checks. Some firms may ask you to have these already, however they would be wrong to do so as they are supposed to carry them out themselves.

If you are working for yourself although at the time of writing it is not a legal requirement, it will be a good idea to have the check anyway. However, you will need someone else to do it for you as you cannot do it for yourself.

You will need to check with the council in your area how they like to do things. Check the rules as some areas councils may only use recognized photographers on their list while others may use independent ones.

Some areas may still refer to CRB checked photographers.  These are in fact now DBS checks.

Your Proofing Method

You may be request to give your proofing method as an example of your workflow to a prospective employer.

Healthy & Safety

You will need to have a awareness of health and safety at work and health and safety around your equipment and processes etc.

Office Work & Paperwork.
You may be expected to also do office work and paperwork connected to your photos. This can include basic writing of letters to clients, chasing up payments, etc, or supply general paperwork.
Time Management.
Time management is essential for the school photographer. As you will have a lot of children to go through in a very short period of time. You will also be expected to manage your time getting to and from various different schools. And manage your time when you're not actually doing photography and working in the office. Having a good quality workflow is essential. Although if you're working for a company they should already have one of these in place.

Confidentiality.
The ability to keep calm, free and confidentiality are vital in any business. You may find yourself in situations where you say "I was taking a photo of little Johnny today". But you shouldn't say anything. This may sound obvious but it's surprising how difficult it can be when work and leisure collide. Whether it be keeping confidentiality of the person's details, address and payments on your records and keeping up to date with the legal requirements of that which are quite stringent or whether it's simply not saying who you were taking photos of confidentiality is vital in all areas of your business whether you'll be self-employed working for an employer.

Resolving of Issues
As you'll be working away from the office on site you may come in situations whereby you need to resolve issues either with parents, children, or the school themselves. It is vital that you have some skill sets in this area. Although some issues may not be able to be resolved on the spot you will then need to be able to handle the situation until you can pass it on to your office.

Qualifications Asked For (GCSE or Equiv)

Not all photography jobs require qualifications in photography. There may be on the job learning as they prefer to train you themselves. Or they may be assumed skills. Some photography businesses will ask you for qualifications, These can be GCSE for example in the UK, vocational qualifications or even a degree.

The Ability to Speak English (will depend on country)

I have seen some job requirements say that they require you to speak fluent English. Obviously, language skills would depend on the area that you're working in or the country.

On The Job
Shoot & Work Independently.

You need to have a self-directed personality. This is because you need to be able to work independently without someone to tell you what to do and when to do it. Which means you need to be responsible and be able to take control of your own time and decision-making.

Have Your Own Transport Sometimes and the Use of a Company for Car Others.

It is vital to have your own transport as you'll be going from school to school. You'll need to be able to drive and have a full current license. You may be requested to have your own car or the company may provide it for you. They will probably provide some covering of expenses like mileage and car maintenance.

Have a Full Driving Licence and Correct  Car Insurance for Work

If insurance is mandatory in your country then you will need to make sure that you have the correct type of insurance to cover driving for the actual job rather than just to and from work. This may not apply to all countries.

The Ability and Willingness to Start Work Early

You may find that you have to start work early to get to your location. Some photographers cover 80-mile radius or more. So if you have to drive 80 miles to start a full day's a photography photoshoot at 9 a.m. then you will need to leave for work early because you will need to make sure you get there and plenty of time and have time to set up.

You May Cover a Large Work Area

It's common for companies to cover a large area as stated above. You may find yourself working in different schools over quite a large area.

You Will Need Professional Grade Equipment

This can either be supplied by you or by the company. This depends on the company policy whether you use your own equipment or theirs. If you're freelance then you will probably have to use your own photography equipment. They will expect your equipment to be of a professional grade quality.  So you will need to make sure you set up with high-quality camera tripod and lighting etc.

You Need a Calm Yet Enthusiastic Personality
Your personality needs to be calm organized happy and enthusiastic with good communication skills and a positive outlook

As stated elsewhere personality and the ability to be calm and organized in any situation. To be able to interact with people and communicate clearly concisely and politely. In addition, the age group you photograph will depend on how you communicate to get what you need from your subject.

Firms May Have Specific Set Up Requirements That You Must Follow

Some of the larger photography firms may have specific requirements for the way they prefer you to work and set up your equipment etc. You'll be expected to follow these procedures and to know them.

Keen Eye For Detail and a Can Do Attitude

Employers want you to have a keen eye for detail and a positive can do attitude. it's no good to say you can't because you have to get results.
You Need to Be Well Presented

As you're dealing with people it's important for you to be clean tidy and well-presented at all times.

Engage Well Get Images to Reflect Their Personality
If you want to stand out from the crowd, rather than just sitting someone down and taking photos you want to be able to learn how to get your images to reflect your subjects personality.

This may not be as easy as that sounds if you're taking hundreds of pictures of students in one day and you are strapped for time. You need to be able to work quickly and get the best out of your subject equally quickly. Over time you can learn different techniques that will help you do this.

Rates Of Pay
Rates of pay are either as salary or as a daily rate depending on how you're employed. Daily rates in the UK vary between £110 and £130 (US $140-$168 approx) per day.
You Must Be Fit & Healthy
Fitness is vital as a school photographer as you need to be able to carry lots of heavy equipment around and handle heavy cameras. Professional cameras tend to be much heavier than some of the other types of cameras. Although you'll be using a tripod for most photos you still have to be able to carry the camera around and use it when you are not.

In addition working with children can tire you out and you will need to stand for long periods of time while you're taking your pictures.

You Will Need References
Some firms will still require you to have references. This is usually two references. If you've had previous jobs than they will want them from your previous employer. If not you could get them from your college or university. Or a professional person. Do not use family members.

Insurance, Licences, Checks & Council Contracts/Contacts
I've covered checks and licenses above.  It is vital that all the licenses and security checks that are necessary you can either get or have. Sometimes the employer will have to do them. But you must be aware of what you may be required, especially when working with children, to have more security checks. Even if they are not mandatory it's good practice to have them.

You will need a full driving licence and possibly your own car.
Portfolio
Your prospective employer will want to see examples of your work so having a good quality portfolio ready to show them if they need it is a good idea.